Ads seen contributing at least $500 million in quarterly sales
Second-quarter results to show big subscriber losses
Netflix Inc.'s stock has looked cheap for months and yet buyers discovered to their dismay that it just kept getting cheaper. Now bulls say the video-streaming giant is on the verge of proving that it's an actual value stock and not a value trap.
The launch of a much-anticipated advertising supported service this year, plus a crackdown on password sharing, could help reverse the company's shocking subscriber losses and provide a new revenue stream, the thinking goes.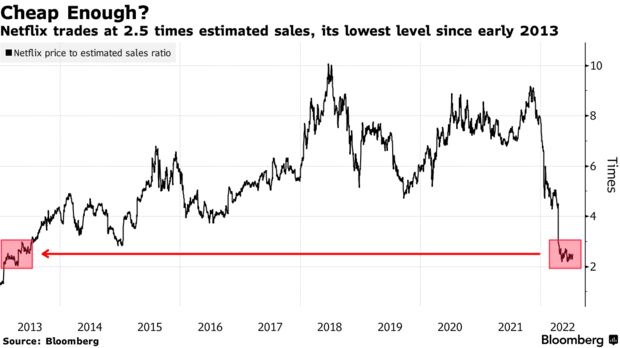 "All of these factors could help put Netflix back on a lasting multiyear growth trajectory –- and there is a strong likelihood investors will reward that with a higher multiple," said Pedro Palandrani, director of research at Global X ETFs.
Investors will have to look past some more bumpy days: The company, which has more than 200 million subscribers, reports second-quarter results after the close Tuesday, and it's already said it expects to have lost 2 million customers in the period, even with the huge success of the fourth season of sci-fi thriller "Stranger Things."
The Los Gatos, California-based company's global market share for streaming originals plummeted to an all-time low in the second quarter, according to Parrot Analytics, as rival services from HBO Max, Apple TV+ and Disney+ steadily gain traction.
The stock price already reflects plenty of bad news, though, so a better-than-expected quarter might spark a rally: Netflix trades at 2.5 times estimated sales, its lowest level since early 2013 and well below its 10-year average of 5.4 times. In comparison, the Nasdaq 100 Index is priced at 3.6 times forward sales.
Netflix plans to introduce the ad-supported tier by the end of the year after shunning the idea for years. Last week, the company surprised the industry by picking Microsoft Corp. as its technology and sales partner for the ad-supported service. The stock has gained 9.4% since the announcement.
Conservatively, the business may be able to boost quarterly revenue in the US and Canada by $750 million, according to Bloomberg Intelligence analyst Geetha Ranganathan. "Overseas is the bigger opportunity and Netflix's scale may make it a major global ad player," she said.
Meanwhile, Palandrani estimates the ads can bring in $500 million to $625 million in quarterly revenue and Piper Sandler's Tom Champion is more bullish, seeing a quarterly revenue opportunity of about $1.4 billion.
Netflix has plunged 68% this year, the biggest drop in both the S&P 500 and Nasdaq 100 indexes by wide margins, repeatedly disappointing optimists who thought a turnaround was near. The company faces mounting competition, customers whose finances are getting pinched by rising inflation, the looming probability of a global recession and the end of the pandemic-fueled streaming boom.
Rivals Walt Disney Co., Paramount Global and Warner Bros. Discovery Inc. also have been hit, losing a quarter of their market value or more over the past three months. However, newer entrants have priced their subscriptions at marked discounts from Netflix to attract users, a sign that Netflix might win some clients with a lower-priced, ad-supported service.
"Disney+ is clear evidence of how effective subsidized plans can be in spurring growth –- Netflix could end up doubling its total subscriber base in 2-3 years," Palandrani said.
Latest posts by Rutayohibwa
(see all)